Festival Schedule
14, 15, 16 Aug: Screenings: 7.30pm – 9.30pm. Spatial sound explorations, post-internet performative actions, meaning-finding/meaning making idiosyncrasies, cinematic and televisual contexts, film and video semiotics, allusions to gaming, advertising and internet art.
14 – 17 Aug: Exhibition films – Free for everyone from 3pm to 6pm. Think – abstract, absurd, activist, animated, asemic, clandestine, collage, conceptual, cut-ups, environment, experimental, glitsch, graffiti, graphic, identity, kinetic, outsider, paracinematic, performance, plunderphonic, poetry, radio, rebellious, scores, sci-art, scratch, silent, sonic, subterranean, subversive, surreal, synesthetic, typographic, video art…More info: www.usurpzone5.org.uk/exhibition
17 Aug: Film soundtrack and projection night: 7.30pm – 11pm – Free for everyone – mixing it up from the eclectic Usurp vinyl collection of film soundtracks and spoken word with projections on the shop front of a selection from the exhibition.
The UsurpZone5 Film Festival is the first experimental film and video festival in the London Borough of Harrow. Thanks to all the filmmakers and artists for submitting their work. Usurp Art's open call received over 460 compelling submissions, from every continent and over 60 countries.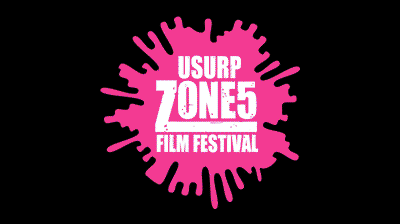 This ambitious festival highlights the politics of DIY creations at a time of cuts and austerity. The programming for the festival employs an experimental process that breaks with conventional curatorial authorship and fosters a more democratic spectatorship, enabling viewers/audiences to create their own surprise links, chance connections and perceptual analysis. The Usurp Zone5 Film Festival transforms the Usurp Art space into a suggestive interface – a communal, intimate living room in which to be inspired, reflect and share.
Download the Usurp Zone5 Film Festival Press Kit – includes press release, low/hi-res images and animated gif (4.6 mb zip file).